Last Updated on April 2, 2023 by roshan1993faisal@gmail.com
You know the joy and fun a pool can bring – but do you know how to pick the right shape for your above ground pool? Finding the right shape for your space can make all the difference in maximising relaxation and enjoyment.
This guide will provide you with all the info and tips to help you make this important decision.
When you are ready to purchase an above ground pool to enjoy with your family, one of the important things to keep in mind is the shape. While it may seem like just a matter of aesthetics and preference, there are several factors that will determine which shape is the best choice for your new family pool.
Above ground pools come in three shapes: round, oval, and rectangular. Each type of shape offers certain benefits, such as easy installation, more water capacity, additional swimming area and more. This guide will help you decide which shape is right for you by providing information on the advantages and disadvantages of each shape and offering tips for selecting the optimal pool for your needs.
Keep reading to get started on choosing an above ground pool that fits perfectly within your space and budget!
Explanation of above ground pools
Above ground swimming pools are a great option if you want to get a pool in your backyard but don't have the budget to install an in-ground model. Above ground pools are less expensive and significantly easier to install than traditional in-ground models, and they come in a variety of shapes and sizes. They range from circular pools that can accommodate up to dozens of guests, oval pools that offer the perfect length for exercising, and unique shapes like kidney beans that are both attractive and fun to swim around. When selecting a shape for your pool, there are several key factors to consider.
First, you need to consider the amount of space you have available. The larger the area available for a pool installation, the more options you'll have for shape selection. If space is limited, it may be best to go with something like a rounded rectangular shape that takes up minimal space while still offering plenty of room for swimming or splashing around.
You also need to take into account any special features you'd like your pool area to have such as seating, fountains or slides—all of which may influence your decision on the size and shape of your above ground pool. Additionally, it's important to consider any potential obstructions such as trees or other landscaping features that may limit where a traditional roundpool can be placed; an oblong option may fit better in this situation instead.
Last but not least, try envisioning how you envision using your above ground swimming pool with friends and family members—you want something spacious enough yet still aesthetically pleasing so everyone can enjoy their time in it comfortably! The bottom line is that only you can decide which shape works best for you and your family—but by keeping all these factors in mind when making your decision, we hope it helps you make an informed choice!
Overview of the guide
In this complete guide on how to choose the right shape for your above ground pool, we will cover all the factors you need to consider when selecting a pool design. From safety considerations to size and shape preferences, we'll provide an overview of what you need to know when shopping for an above ground pool.
We'll also look at swimming pools with custom features and discuss how they can add value and style to any outdoor space. Finally, we'll finish up with a few maintenance tips that will keep your new swimming pool in perfect condition for years of enjoyment.
No matter what type of pool setup you're looking for, this comprehensive guide will help you make the most informed decisions possible.
Considerations when Choosing the Shape of Your Above Ground Pool
When choosing the shape of your above ground pool, there are several factors to consider. First and foremost is safety. Make sure that the pool you choose has all of the necessary safety features such as fences, steps and covers. Consider whether or not an adult must be present when using the pool – for example, if young children will use it, an adult must always supervise them by being in or near the pool at all times.
The size of your yard should also be taken into account when selecting an above ground pool shape. While oval pools tend to take up less space than circular models, they are still larger than many backyards can accommodate without a great deal of creative landscaping on the part of the homeowner. Round pools are still more popular than other shapes and may provide more entertainment options in larger areas such as those with private patios or decks.
The shape of your backyard will also help you narrow down your search for an above-ground pool shape. If your yard is asymmetrical, it may be difficult or impossible to fit a round or square pool into its space; prefer something else like an oval or kidney-shaped one instead. Additionally, take into account any obstacles such as trees or plants that could prove troublesome if allowed to grow too close to a round model and possibly obstruct swimmers' access either inwards or outwards from within the waters' depths.
Available space and size
When it comes to choosing the right shape and size of an above-ground pool, one of the key considerations is available space. As with any new addition to your outdoor space, you need to be sure that you measure your area correctly. When it comes to above-ground pools, measuring in both width and length will help you decide what shape will fit best into the available space.
The common shapes offered for above ground pools are round, octagonal, oval, and rectangular. Each one of these shapes has its own merits and distortions that influence how the pool looks in your outdoor space. Choosing a pool that harmonizes with your outdoor area is essential for creating an aesthetically pleasing environment.
Round pools are often offered in sizes from 8 feet up to 33 feet in diameter which makes them good for smaller spaces or as a way of introducing a pool into kids' play areas. The round shape ensures water flow is more natural and there are fewer hard edges making it very safe if they were playing near the edge.
Octagonal pools are a popular choice among many homeowners due to their versatility: they can be exceptionally shallow while preserving a large swimming area that can suit all kinds of users – from toddlers to pro swimmers!
Oval pools offer great flexibility with sizes ranging from 10 feet up to 28 feet which makes them suitable for larger families or those who would like more room for swimming laps than round or octagonal pools could offer alone.
Finally, rectangular pools tend to range from 12×20 up to 20×40 feet depending on the size limitation but provide an elegant look compared with other shapes – perfect for relaxing!
Personal preferences and style
When you are deciding on the shape for an above ground pool, one of the main considerations should be your personal preferences and style. It is important to consider both your current lifestyle and any plans for future changes. Think about the activities that will take place around your pool, from sports like volleyball and basketball to just lounging around in it. Do you think a rectangular shape is best for these activities or are you thinking of a more traditionally shaped pool?
The total size of the yard will also affect your decision, so make sure you measure the area before finalizing your decision. Additionally, check with local regulations; some cities may have certain restrictions on pool sizes or locations.
The type of pool liner material chosen can also help determine the shape of your pool; some liners work best with certain shapes. Consider how steep the sides are desired for maximum safety—the height to width ratio should be taken into account if more than one person may be going into and out of the water at a time. Both types of ladders (in-pool or outside) should be taken into consideration when selecting a shape as this will affect access and removal. Some liners provide different designs that can add an interesting aesthetic element to almost any shape; researching them before getting started will help ensure an enjoyable long-term solution is found.
Intended use of the pool
When selecting an above ground pool, assessing how you plan to use the pool is a key factor in determining the right shape of pool for you and your family. Consider the following factors before making your decision.
If you plan to use the pool for swimming laps, or if a round or oval shaped pool will take up too much space in your yard, opting for an octagonal or rectangular shape would be ideal. This type of shape gives swimmers maximum room to work with and provides enough space for family members who like to move around in the pool.
If your primary goal is lounging and soaking up some sun, opt for a larger round or oval shaped pool versus a "kid-size" rectangular option. This will lead to fewer people vying for space on a single float and provide more elbow room during larger parties.
Finally, if you are looking to buy an inexpensive option that's perfect for kids and very casual family splashing around but don't have much in terms of available real estate, look into purchasing a rectangular-shaped above ground pool designed specifically with kids in mind – they tend to be more narrow than their fully-sized adult counterparts.
Budget considerations
When planning for an above-ground pool budget, consider the activities you will be doing in your pool. Generally, deeper pools are better for swimming and physical activities than shallow pools are. Also, larger pools are great for socializing or holding large groups of people. If your main goal is simply to lounge and enjoy some leisurely soaking, then a smaller above ground pool might meet your needs just as well.
For those on a tight budget, it might be wise to choose a circular or oval-shaped model since these are cheaper than other shapes more complicated to install. Additionally, investigate the cost of maintenance which includes having pump filters regularly cleaned out and the cost of necessary chemicals such as chlorine and pH balancers. It's important to select a quality above ground pool with durable materials that will last many years without requiring frequent repairs or replacements.
Finally, some stores offer no-interest financing plans which can make paying up front less expensive in the long run compared to taking out loans with high interest rates.
Safety considerations
When deciding what shape and size of swimming pool to buy for your above ground pool there are important safety considerations that need to be taken into account. Before you invest in any swimming pool, especially an above ground one, make sure you have considered all of the available safety features and ensure that the area around the pool is well covered with a net or fence.
The importance of safety can't be stressed enough. Above ground pools will require more supervision than an inground pool, therefore it's essential that you assess your needs before making a decision on options such as height, shape, and materials used.
When it comes to shape look for a design that provides optimal accessibility if you expect there will be any young children in or around the pool. A rectangular shape with small decking on two sides is generally easier to remove children from so they won't accidentally fall in while playing games on solid ground. On the other hand circular pools may have additional walls on the side and rounded edges can provide added support for swimmers who are unable to climb out by themselves. Depending on who is using your pool and their various needs – always make sure to select a design that offers maximum security whilst meeting all specific requirements.
lll. Additional Features to Consider
When considering an above ground pool for your home's landscaping requirements, there are a few additional features you'll need to consider. First and foremost, the shape of your pool will have an influence on the overall aesthetics of your space. From classic rectangles and rounds to oval-shaped pools and modern hexagonal designs, there are several options to choose from when it comes to selecting your perfect above ground pool. Furthermore, if space permits, you may also be interested in adding unique curved walls for a truly luxurious look.
Beyond shape selection, you may also consider what type of material you would like your pool to be constructed with. Above ground pools can come in both steel and resin variants and range in strength depending on the gauge thickness (measured in mils), so make sure you understand which one best suits your needs before purchasing. Each type of material has its own benefits and drawbacks; consult with professional pool builders or manufacturers before purchasing material for constructing an above-ground swimming pool as they may have different advice on which option works best for each scenario.
Finally, other additional features that could add comfort while swimming include ladders, steps or handrails as well as safety covers or leaf nets depending on where near vegetation or roads the above-ground is built near or under trees.
Pool entry options
When it comes to pool entry options, there are several considerations to keep in mind when selecting the right shape for you and your above ground pool. Some of these include the size of your yard, what type of activities you plan to do in the pool (i.e. lounging, swimming laps or just wading) and your budget.
Above ground pools come in a variety of shapes, from round and oval pools that offer more space for lounging and swimming laps to rectangular pools for more focused use such as exercising or lengthier swimming sessions. Moreover, some shapes may offer additional features such as bench seats for seating around the perimeter of the pool or swim-outs enabling children more easy access when entering/exiting the pool.
Before selecting a particular style, it is important to consider how your pool shape will complement both existing landscape elements (e.g. decking), surrounding property lines and other backyard features such as fire pits, outdoor furniture and trees or shrubs that may be nearby. Moreover, depending on how you intend to use your above ground pool (such as a lap area or barbequing by the adjacent deck), certain shapes may work better than others in order to maximize its functionality.
Similar considerations should be taken into account if you are looking at inground options over above ground; however this article focuses specifically on entry choices available only with an above-ground structure – so please reference other articles discussing inground builds if that's what best suits your home or business environment. The main entry options available include: round/oval/rectangle – each with its own strengths based on personal preferences as well as individual needs/requirements when using this summertime getaway area. Finally – please ensure that all safety measures are being put into place when installing any type of swimming entry platform – make sure it runs along all applicable permit guidelines regarding indoor/outdoor install jobs!
Decking options
Decking options for above ground pools range from simple pressure-treated lumber to composite materials and can give your pool a beautiful custom look. Decking can be attached to the top of the pool or encircle the entire area for additional privacy. Decking also provides a comfortable, slip-resistant surface for entering and exiting the pool.
You have several choices when it comes to decking around an above ground pool:
Wood: Pressure-treated wood is often the most economical option, however you should use caution when selecting wood as it can be slippery when wet and prone to rotting after being exposed to water for an extended period of time. Choosing higher quality materials can lengthen its lifespan.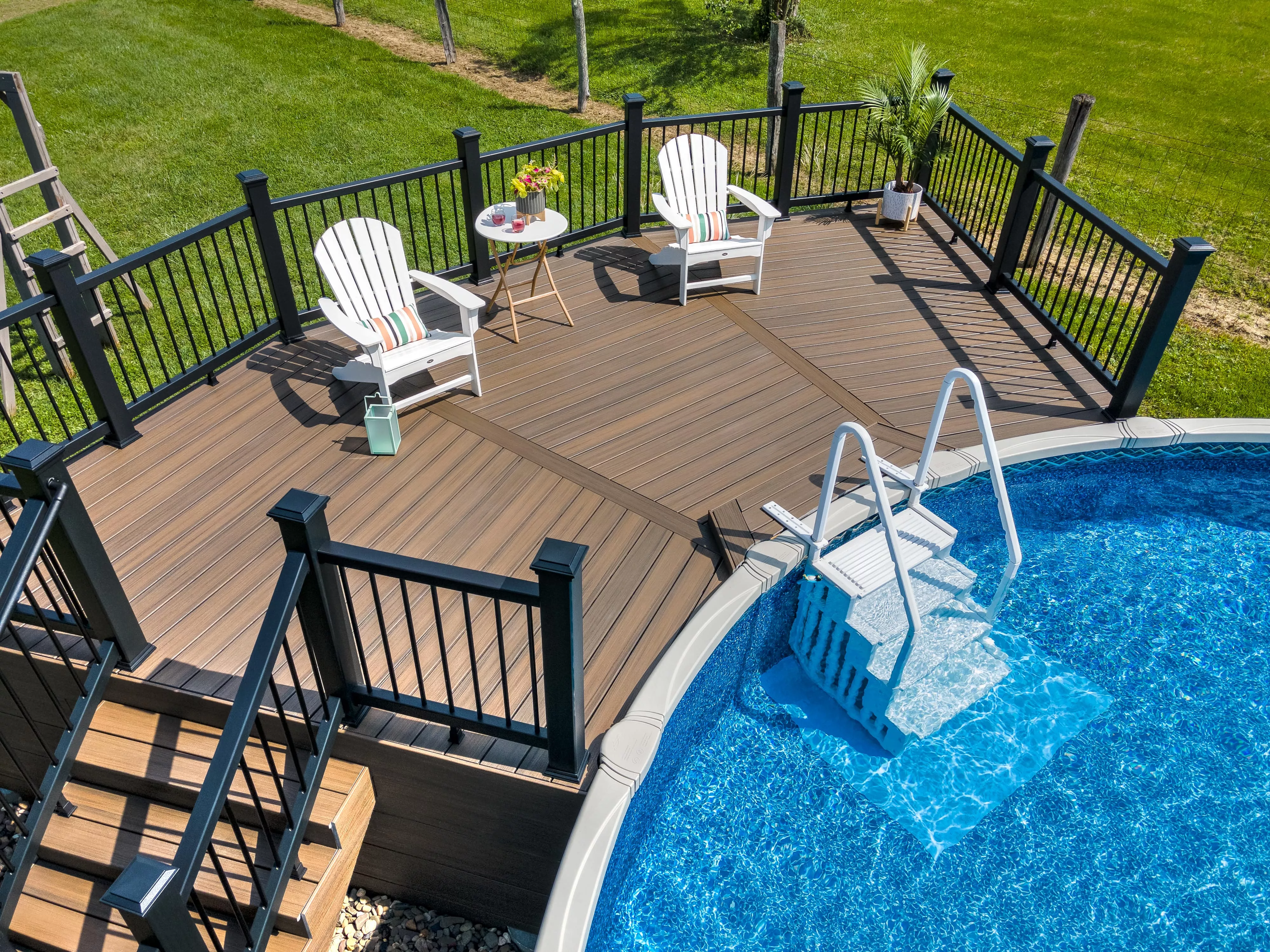 Composite decking: Composite decking is more expensive but is ideal for pools given its superior resistance to warping and rot compared to traditional wood decking options. The low maintenance requirements of this material make it popular with above ground pool owners because it requires no staining or sealing, which saves time and money in the long run. Plus, this material is available in various colors, styles, textures and sizes.
Aluminum decks: Aluminum decks require little upkeep as they are resistant to mold, mildew and weathering thanks to their non-corrosive finish that offers low maintenance compared with other materials like wood or composite decking. Aluminum decks are safer than wooden decks because there are no nails or screws which could become loose due to weather conditions like humidity or rain. Plus, aluminum decks provide a great support system that makes them suitable for different types of pools sizes.
Fencing options
When shopping for an above ground pool, it's important to consider fence options. Swimming pools should be fenced off to prevent access by unsupervised children and animals. Furthermore, fences also keep out debris and limit access to the deeper areas of the pool. Outdoor swimming pools can be particularly dangerous if unattended, so choosing a safe and secure fence is paramount.
The two main types of fencing that can be used with above ground pools are hard paneled and mesh-panel fences. Hard paneled fences look more like typical backyard fences, while mesh-panel fences offer more flexible boundaries and are generally less expensive than hard panels.
Hard paneled fences generally come in a variety of materials such as wood, metal or vinyl. These panels are typically made from treated lumber or metal for durability against the elements and long lasting protection for your pool area. They come in a range of styles with various heights which allow you to choose one that best suits your needs. Wood fencing adds a classic look to any backyard pool configuration while metal fencing adds strength and security to the area around your swimming pool. Examples include standard wood privacy fencing, picket fencing or invisible aluminum fencing for maximum security against intruders.
Mesh-panel pools have many advantages over traditional hard panel designs as they are easier to install due to their lighter weight makeup; they also bend more easily around curves compared to solid panels resulting in added modern appeal without compromising safety standards nor aesthetics of the overall landscape design surrounding it. Mesh is often composed of lightweight materials such as woven plastic or poultry netting which along with its flexibility allows increased air flow providing an enhanced cooling effect even in sunlit areas near the rim of your pool's perimeter barrier fence line.
Conclusion
As you can see, there are many different shapes and sizes available for above ground swimming pools. It's important to consider the size of your yard, your budget, and the type of activities you plan to enjoy in your pool when making your purchasing decision.
It's also a good idea to research local ordinances and carefully read the manufacturer's instructions before buying a pool. For safety reasons, take extra precautions when installing an above ground pool and make sure to always supervise children who are playing in or near it.
With the right amount of research and preparation, you will be able to find an above ground pool that is perfect for you and your family. Enjoy!
FAQ's
What is the best shape for above ground pool?
The best shape for an above ground pool depends on personal preference and available space.
What shape of pool is best?
The best shape of pool depends on individual needs and preferences, as well as available space.
How do I choose an above ground pool?
Consider factors like size, shape, materials, durability, ease of maintenance, and budget when choosing an above ground pool.
Are round or oval above ground pools better?
Round above ground pools are typically easier to install and less expensive, while oval above ground pools offer more space for swimming and activities.
What is the disadvantage of above ground pool?
Above ground pools can be less durable and have a shorter lifespan than in-ground pools, and they may not add as much value to a property.
Why do people like kidney shaped pools?
Kidney shaped pools are popular because they offer a unique and natural look, while still providing ample swimming space and opportunities for customization.
Are rectangular pools better?
Rectangular pools are often preferred for their clean, classic look and versatility for swimming laps or playing games.
What is the most expensive part of an above ground pool?
The most expensive part of an above ground pool is typically the pool liner, followed by the pump and filter system.
What is the best bottom for above ground pool?
A sand or foam bottom is often recommended for above ground pools, as they provide a soft and level base for the pool.
Why are most pools rectangular?
Rectangular pools are often preferred for their simplicity and functionality, as they provide ample space for swimming laps and playing games. Additionally, they can be easier to maintain and more cost-effective to build than other shapes.
See Also-
William Bruce is the CEO and author of one of the most comprehensive skyhighpools.com websites on the internet. With over 20 years of experience in the pool industry, William has become a trusted source of information for pool owners and enthusiasts around the world. His commitment to providing unbiased and comprehensive information has made his website a go-to resource for those seeking reliable information about pool equipment.